SHAD Motorcases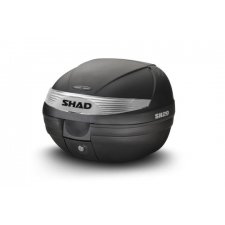 We are a proud SHAD Dealer.
Their products are very high quality and their selection will rival that of Givi.
We prefer them over Givi due to their ease of use. If you are running errands around town you do not need to use the key every time you want to open your top box. You don't realize how much of a pain that is on other cases until you use a SHAD box and then you'll agree.
We stock the full range of mounting kits for Kymco and Hyosung, but we can order kits and brackets for any bike, just give us a call or send an email and we can get it for you in a few days
---
$34.99
Shad mounting kit for the 2 stroke People 50 and the original People 150 (the NON S models). Once in..
$29.00
Mounting kit for the Kymco People S models (50, 125, 200) will NOT work on the People 50 and 150. Al..
$99.00
This kit will replace the rear grab rails and allow you to use any Shad top case on your scooter. Th..
$70.00
Mounting Kit for the older Super8 50 and Super8 150 with a NON split seat We only have one left and ..
$63.98
This if for the first generation 2006 - 2008 Xciting 250/500 (carburated versions) ONLYIncludes nece..
$89.99
Specific mounting kit for the Kymco X-Town 300. Once fitted you can mount any Shad top case. Include..
$59.00
Yager GT 200i Will also fit the Yager 125cc versionInlcudes necessary hardware and instru..
$95.99
SHAD SH26 top case is fully removable with enough storage capacity for one (1) Full Face Helmet. S..